Investing in family planning is one key element to reducing poverty, experts say.
By Eleanor Goldberg
Picture: Poverty, which affects a vast majority of young children in Chad, has serious repercussions on their access to a healthy diet, adequate financial resources and healthcare [ANADOLU AGENCY VIA GETTY IMAGES].

The United Nations has committed to ending extreme poverty by 2030, but if it's going to be successful, it must focus its efforts on sub-Saharan Africa, where rates are soaring.
In the next 14 years, sub-Saharan Africa will account for almost 90 percent of extreme poverty among the world's children, according to a new report released by the Overseas Development Institute, a United Kingdom-based think thank that focuses on international development and humanitarian issues. The region ― which includes the dozens of African countries located south of the Sahara desert ― currently accounts for about half of children living in extreme poverty worldwide. 
The World Bank classifies people as being in extreme poverty if they live on less than $1.90 a day.
The region's poor have further to go than others when it comes to "crossing" above the extreme poverty line. Sub-Saharan Africa also faces high levels of inequality and is in a much earlier stage of demographic transition than other areas ― meaning it still experiences high birth and death rates ― according to the report.
The region has succeeded in significantly reducing its child mortality rate, yet fertility rates remain high by international standards. Though reducing extreme poverty will require a multi-pronged approach, increasing access to family planning is a critical element, per the report.
Women in the region have an average of 4.7 children. That's twice the number in South Asia, for example. One-quarter of women of reproductive age in the area say they have unmet needs for family planning.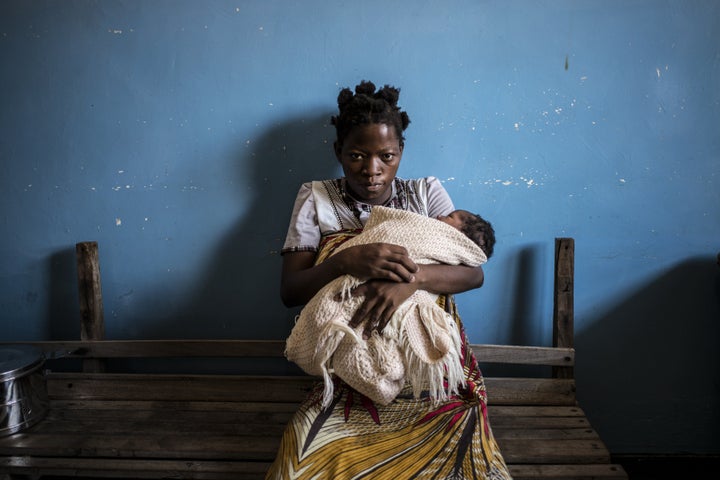 MARCO LONGARI VIA GETTY IMAGES
Miriam Thomas, 18, an HIV-positive patient on antiretroviral therapy, holds her second baby as she waits for a medical consultation at the Nsanje District Hospital in Malawi on Nov. 25, 2014, during a routine post-natal visit and antiretroviral assessment.
Family planning addresses a number of issues. For one, those programs can help to free up government resources.
Every dollar spent on family planning can save governments up to $6, which can be spent on improving health, housing, water and other public services, according to the Bill and Melinda Gates Foundation, which works to bring contraception to women and girls in need.
Getting contraception into the hands of adolescents is particularly crucial, since delaying pregnancy increases their chances of pursuing education and economic opportunities.
But part of the issue on that front is figuring out how to effectively address child marriage.
About 12 percent of girls in sub-Saharan Africa marry before they turn 15, and 40 percent wed before 18. Four countries in the region have the highest child marriage rates worldwide.
In India, by contrast, which has the 10th highest child marriage rate in the world, 47 percent of girls are married before they turn 18, according to Girls Not Brides, a nonprofit that works to end child marriage.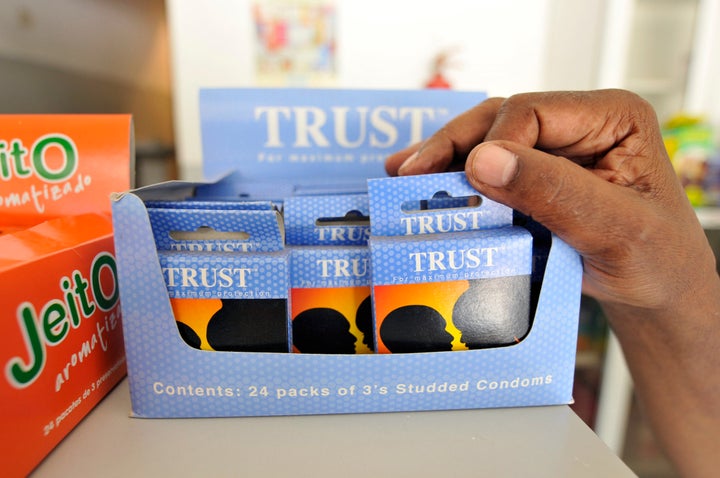 GRANT NEUENBURG / REUTERS
A customer picks a pack of condoms for sale at a chemist's on the outskirts of Maputo, Mozambique, March 19, 2009.
One way to combat child marriage and teen pregnancy is to incentivize girls to stay in school. Providing cash transfers for those who continue to pursue their education has been proven to help reduce the social and economic pressures surrounding child marriage, the report recommends.
Still, even when contraception is made available, and women and girls know where to access it, they still often avoid it because of the stigma associated with the issue.
"Women in the developing world will tell you they cannot use condoms," Melinda Gates told The New York Times in 2013. "They can't negotiate a condom even in their marriage because they're either suggesting their husband has AIDS or that they do."
The Gates Foundation is one of a number of groups working to dispel those stereotypes, address other related issues among the world's poorest and identify implementable solutions.
By 2020, the organization has committed to bringing high-quality contraceptive information, service and supplies to an additional 120 million women and girls in the most underserved countries.
Source: http://www.huffingtonpost.com/entry/world-poorest-children-report_us_57c6fca2e4b0e60d31dc8c08?utm_hp_ref=poverty